The ambition that we have for the companies or project owners we work for is simple: to assist in them taking off and making them into bigger and better businesses and that these in turn add social value to their communities.
Sourcing a suitable financial partner for your company or project can be a time consuming and daunting task. Each investor has a unique set of criteria like scale/sector, risk-return profile, quality of management team, required payback period, FDI routing, hurdle rates, exit clauses, etc., which could make your project highly suited to one investor but completely unsuited to another. EFS assists project developers, companies on expansion course or equipment/machinery manufacturers identify and connect with the right financial partners for raising either debt or equity funding in the range of USD5 million to USD1.5 billion. Although we focus on the energy and renewable energy sector the industry may vary, the common criteria applied to each business is:
They are economically viable with an IRR in excess of 20% and an expected minimum exit of 4 or more.
They add value to the community.
An enterprise value of USD5M up to USD1.5B ore an funding requirement of an equal amount.
They are in a high growth market.
They are managed by an ambitious, competent and growth-minded team.
We seek to match investors with management teams and promoters in a range of renewable energies: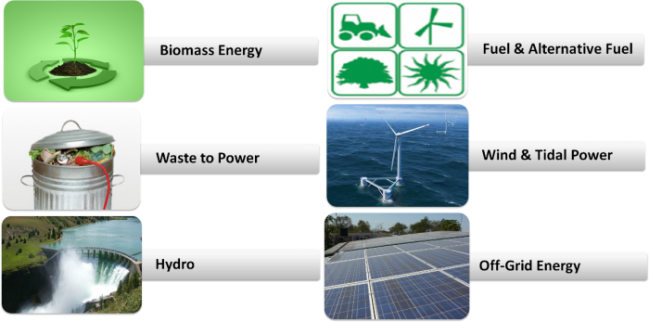 To look in more detail at the sub-sectors in which EFS has either made or reviewed investments, please click on the sector above.